We have the best display of LiftChairs!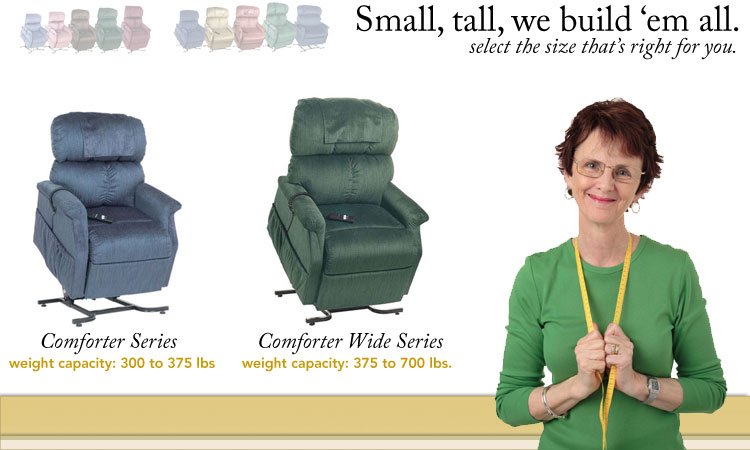 Before you buy an electricmedical recliner Lift Chair, we "basically" have to measure you.
A Lift Chair basically has 4 measurements:
Seat to Floor
Front of Seat to Back of Seat
Seat Width
Seat Height
THESE MEASUREMENTS HAVE TO CORRESPOND TO YOUR BODY DIMENSIONS.
Consequently, we have
Petite-Small
Small
Medium
Large
and Tall
The important option that we have is either One-Motor Models and Two-Motor Models:
One motor models completely recline and help you to stand
Two motor models allow you for make many more independent reclining positions: allowing you to adjust your back and your legs to many different positions.
In our 3 Seat Lift Chair Showrooms Garden Grove, CA; Burbank, CA and Phoenix, AZ. we try to keep all these Lift-Chair models on display:
Serving the entire San Fernando Valley
AUTHORIZED LIFT CHAIR DEALERS OF PRIDE, GOLDEN AND MEDILIFT LifetIF ime Service Commitment and Limited Lifetime Parts Warranty.
Best Display of LiftChairs in Los Angeles/Burbank; Garden Grove/Orange County; and Phoenix AZ.

Lift Chair Specialists
12557 Harbor Blvd., Garden Grove CA 92840 800-824-3145 BBB
907 Hollywood Way, Burbank CA 91505 800-727-1954 BBB
1035 E. Camelback Rd., Phoenix AZ. 85014 (800)733-1818 BBB
LiftChairs:"Your 100% Satisfaction Is Our Only Goal!"

EXCELLENT
SERVICE.

CONTACT US!

SERVING
ALL AREAS

FAMILY OWNED AND OPERATED




SINCE 1964

ElectropedicBeds was founded in 1964 by Henry Kraus, and is now run by his two sons,
Philip Kraus and Lloyd Kraus.


A TRADITION OF EXCELLENCE.

1035 E. Camelback Rd., Phoenix AZ. 85014 (800)733-1818 map
12557 Harbor Blvd., Garden Grove CA 92840 800-824-3145 map
907 Hollywood Way, Burbank CA 91505 800-233-7382 map


SERVING ALL AREAS: 800-354-5040

MEMBER BBB
A+ RATING

We have never lost sight of the fact that our success is built upon customer satisfaction:#147;Your 100% Satisfaction Is Our Only Goal!#148;

LIMITED LIFETIME PARTS




WARRANTY

After the original manufacturer#146;s Parts Warranty expires, we will either charge you our Cost or #189; the Retail Price for the Part.

AUTHORIZED
SERVICE CENTER

We are the authorized service center for all our adjustable bed, chair amp; stair lift, wheelchair lifts, mobility scooter and power chair manufacturers.

COMPANY OWNED amp; OPERATED
DELVERY SERVICE

On local deliveries, our own trucks and experienced drivers offer white glove delivery, set-up and product instruction.

AUTHORIZED
MEDICARE BILLER

When you qualify, we offer fast and professional Medicare Billing on Mobility Scooters, Lift Chairs and Hospital Beds.

GUARANTEED
LOWEST PRICE

Before you buy, we will beat all competitor prices.Please compare product, price amp; delivery charges #150; we are always the lowest!

10-DAY/$75.00 EA.
EXCHANGE POLICY

On local deliveries, all stock items that are not special or made to order, come with a one-time, 10-Day/$75.00 Each Exchange Policy.
Used 1/2 OFF
800-233-7382
Now for the best selection of Pride seat LiftChairs and Golden liftchairs. Recline easier on your liftchair with incredible ease. The time you can enjoy your seat lift chair has a lot to do with the way you feel. Lift chair recliners are so ease to use, you are going to wonder how you ever waited so long to pamper yourself. Reclining lift chair models come in small recliner LiftChairs, medium reclining LiftChairs, large lift chair recliners and the tall lift chair recliner. Pride liftchairs allow you to electrically stand and recline at the simple touch of your finer. The Power lift chair simply plugs into the wall and the power lift chair by Pride also have built-in battery back-up. Many electric LiftChairs by Golden Chair Lift have (2) two motors that allow you to independently adjust your back and your lelgs. Golden Technologies lift chair company makes the 501 Comforter Golden LiftChairs and the 505 MaxiComfort. These medical LiftChairs and recommended Doctor medicare lift chair are usually bought for those who have arthritis in the knees and have trouble standing; and are a benefit as a medical recliner. Used LiftChairs are 1/2 OFF our regular price. MedLift Elderly LiftChairs are often used on average 14 hours each day. Power LiftChairs for elderly are their most comfortable furniture they can ever use. The easy lift chair is so comfortable and relaxing, you are going to wonder how you ever waited so long to pamper yourself on your ez lift chair. See our Brisa line that is closest to most leather LiftChairs. The Pride Mobility Lift chair comes in all sizes and two motor models; and are available for rent. The best lift chair is the one that fits you the best. Select an electric recliner lift chair from Golden Technologies LiftChairs for your personal use, and take a health break.Heavy Duty LiftChairs are available for Bariatric use Bariatric Heavy Duty and Med-Lift Chair Lift Model . Please call or visit one of our Lift Chair Showrooms in Phoenix, Burbank and Garden Grove today. Please contact us for MORE LIFT CHAIR INFORMATION. Serving All Areas. Ask if FREE SHIPPING is available anywhere in the USA.

Phoenix Golden Technology Lift Chair Showrooms Before you buy a Lift Chair, Compare Price, Lowest Prices las-vegas-lift-chairs.com
Now for the best seat lift chair selection Complete Line of seat LiftChairsand lowest prices on Power Electric Seat LiftChairs. Stand and recline easier in unbelievable comfort. For those who weigh over 350 pounds, there is a special collection of bariatric heavy duty LiftChairs Heavy-Duty LiftChairs Golden Technologies is one of the two major manufacturers of LiftChairs. Golden Technologies Our favorite Golden Lift Chair Recliner is the Comforter Series. If you can afford it (only $200 more!, Golden offers the 2-motor infinite position Lift Chair Maxi-Comfort Series. The 2-motor infinite lift chair allows you to separately recline your back and your legs. Many customers who have breathing and heart problems, arthritis, bone, muscle and nerve pain can find over 1001 different reclining positions to get more comfortable.
Med-Lift makes a fine line of LiftChairs
The Pride Mobility Lift Chair Line offers the best selection of LiftChairs. The Classic Collection offers the CL-30, one of our best selling LiftChairs. In our Showrooms we have the 385 Small, Medium and Large LiftChairs on Display Heritage Collection. In the Specialty Selection we have the 2-motor infinite position 760 and 770 Specialty Collectionon Display, including the very economical discount cost price LC-105. Select a Pride Mobility Fabric for your personal use Fabrics and take a health break.
Serving Fullerton CA through our Garden Grove Location. Call 800-824-3145

View Larger Map

We Process all the Lift Chair Medicare Paperwork
Ask about our Lift Chair LIMITED LIFETIME WARRANTY PARTS
Ask about our Lift Chair LIFETIME SERVICE COMMITMENT
Ask about our Lift-Chair 30-Day Low Price Guarantee
Ask about our Next Day Delivery - if in Stock.
Contact us for the Best Display of LiftChairs
LiftChairs We have the best display of LiftChairs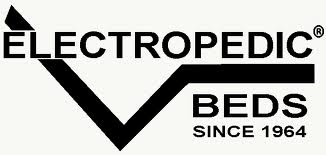 12557 Harbor Bl., Garden Grove CA (800)824-3145 Local Map
Serving the entire Orange County/Southern California with Golden and Pride LiftChairs
Since 1964: Anaheim - Costa Mesa - Garden Grove - Huntington Beach - Irvine - Orange - Buena Park - Santa Ana - Riverside - San Bernardino
Anaheim Adjustable Beds Costa Mesa Lift Chairs Garden Grove Stair Lifts Huntington Beach Mobility Scooters Irvine Hospital Beds Orange Mattresses Buena Park Ramps Santa Ana Electric Wheelchairs Riverside Wheelchair Elevators San Bernardino Bariatric Beds Aliso Viejo Massage Chairs | Anaheim | Brea | Buena Park | Costa Mesa | Cypress | Dana Point | Fountain Valley | Fullerton | Garden Grove | Huntington Beach | Irvine | La Habra | La Palma | Laguna Beach | Laguna Hills | Laguna Niguel | Laguna Woods | Lake Forest | Los Alamitos | Mission Viejo | Newport Beach | Orange | Placentia | Rancho Santa Margarita | San Clemente | San Juan Capistrano | Santa Ana | Seal Beach | Stanton | Tustin | Villa Park | Westminster | Yorba Linda
Aliso Viejo | Anaheim | Brea | Buena Park | Costa Mesa | Cypress | Dana Point | Fountain Valley | Fullerton | Garden Grove | Huntington Beach | Irvine | La Habra | La Palma | Laguna Beach | Laguna Hills | Laguna Niguel | Laguna Woods | Lake Forest | Los Alamitos | Mission Viejo | Newport Beach | Orange | Placentia | Rancho Santa Margarita | San Clemente | San Juan Capistrano | Santa Ana | Seal Beach | Stanton | Tustin | Villa Park | Westminster | Yorba Linda
12557 Harbor Blvd.,
Garden Grove CA 92840
800-824-3145
Yelp BBB Review and Rating Local Google Map Orange County City Search Yahoo Green Yellow Pages YP.com Superpages City Search
Aliso Viejo #183; Anaheim #183; Brea #183; Buena Park #183; Costa Mesa #183; Cypress #183; Dana Point #183; Fountain Valley #183; Fullerton #183; Garden Grove #183; Huntington Beach #183; Irvine #183; La Habra #183; La Palma #183; Laguna Beach #183; Laguna Hills #183; Laguna Niguel #183; Laguna Woods #183; Lake Forest #183; Los Alamitos #183; Mission Viejo #183; Newport Beach #183; Orange #183; Placentia #183; Rancho Santa Margarita #183; San Clemente #183; San Juan Capistrano #183; Santa Ana #183; Seal Beach #183; Stanton #183; Tustin #183; Villa Park #183; Westminster #183; Yorba Linda
Yelp BBB Review and Rating Local Google Map Orange County City Search Yahoo Green Yellow Pages YP.com Superpages City Search