MAC'S Wheel Chair Lift PL-50 amp; PL-72 Specifications Wheelchair Elevator Lifts for School, Porch, Mobile Home, Residential, Commercial, Church - ADA Handicap American Disabilities Act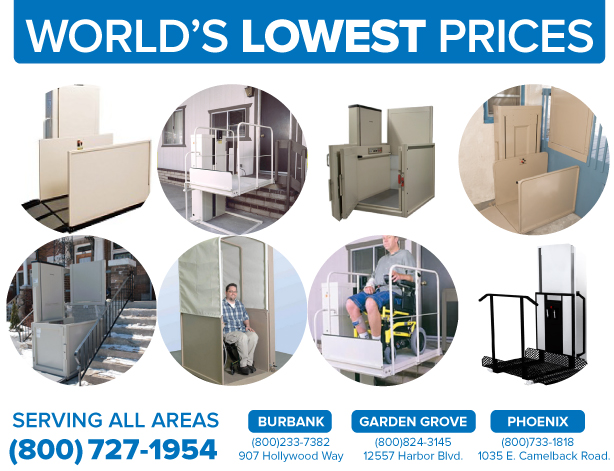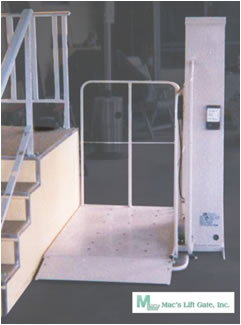 Mac's PL-50 w/ 90 degree exit platform
MAC'S Vertical Home Lift PL-50 amp; PL-72 Specifications Serving Los Angeles Wheelchair Elevator for School, Porch, Mobile Home, Residential, LA Commercial, Church - American Disabilities Act - ADA - Handicap Elevators
Description of MAC'S Wheel chair lift Vertical Home Lift PL-50 amp; PL-72 Wheelchair Elevator Lifts
The product described herein, manufactured by Mac's Lift Gate Inc., Long Beach, CA, is a precision vertical platform lifting device consisting of a machine tower with lifting platform, selected and dimensioned to provide adequate lifting height to suit the residential building requirement. The wheel chair lift lift is capable of being used indoors and outdoors to vertically transport a wheelchair user or otherwise mobility-impaired person, up and over a low-rise barrier created by stairs, thus creating access to or within the building.
MAC'S Vertical home Lift PL-50 PL50 PL72 Elevator, mobility, mattress
Quality Assurance
MAC'S Vertical home Lift PL-50 PL50 PL72 Elevator
Manufacturing - MAC'S Wheel Chair Lift Vertical Home Wheelchair Elevator Lifts Mac PL-50 amp; PL-72
A company with not less than forty (40) years of experience in the design, fabrication and installation of specialized lifting equipment for handicapped and geriatric consumers should supply the lift.
Performance Requirements - MAC'S Vertical Home Lift PL-50 amp; PL-72
The unit shall be assembled and pre-wired (less optional equipment and necessary gates) and manufactured with adequate lifting and load capacity for application described elsewhere in this specification.
The unit shall be easy to operate by the user or attendant, and shall be capable of functioning in all weather conditions.
The unit shall have the capacity to lift up to 500lbs. to the desired lifting height up to a maximum lift height of 50 inches (4 feet 2 inches) and 72 inches (6 feet).
Composition of Materials - MAC'S Vertical Home Lift PL-50 amp; PL-72
Machine tower: 14 gage cold rolled steel.
Base frame: 1 1/2" square x 3/16" wall structure steel tubing.
Lift weldment: 1 1/2" x 3" x .188" wall structure steel tubing.
Tower cap: 10 gage cold rolled steel plate
Side Guard Panels: 20 gage cold rolled steel sheet panel, 1" square x .120" amp; .083" gauge steel tubing (frame).
Platform: 14 gage cold rolled steel plate with slip resistance surface.
Access ramp: 11 gage steel steel plate with slip resistance surface.
Electrical box: 16 gage galvanized steel
Switch box: Hi-impact A.B.S. Thermoplastic instrument case.
Limitations: Vertical platform lift shall operate both indoors and out, and must be anchored on a level, 4" thick, 3500 psi reinforced concrete surface or pad.
The unit shall be pre-wired by manufacturer with exterior grade thermoplastic coated wiring. Extension Cord, 14 gage Ul-cSA approved is recommended if power source is not within three (3) feet of Machine tower. Machine may also be wired using water proof conduit.
Wheel Chair Elevator Lift Saftey Devices
The unit shall have the following safety features for protection of users and the general public:
Upper and lower limit switches

Final limits switch

Instant Reverse Motor

Powered with 110 volt AC current, by 1/2 HP motor, 6.4 Amp

Grounded electrical system

Heavy duty worm drive gear box with heavy duty #50 lifting chain

Automatic access ramp

36" solid sides on non-enter and exit sides of platform

Non-Skid platform and access ramp surface

Key-lock control

Emergency stop switch on main platform control

Platform safety pan to stop decent of platform if obstruction is encountered

3" locking top and bottom landing gates provided with mechanical G.A.L. interlock

Switching amp; Control system 24 VAC low voltage current
Installation, Maintenance amp; Warranty - MAC'S Vertical Home Wheel Chair Elevator Lift PL-50 amp; PL-72
The contractor shall do all work and supply all materials necessary for the complete installation. It is the intent of this specification to outline boradly the equipment required but not to cover the details of design and construction. Maintenance - MAC'S Vertical Home Lift PL-50 amp; PL-72
Maintenance of the vertical platform lift unit shall consist of regular cleaning of the unit, protection of the painted surface of the unit. Warranty - MAC'S Vertical Home Lift PL-50 amp; PL-72 Unit shall have one (1) year limited warranty on the basic unit and electrical system with a two (2) year warranty of drive train components.
Note:
This specification has been written to assist you and your consumer in preparing an accurate and detailed descsription for specifying a vertical platform lift. All or part of this specification may be reproduced. Additional technicalis available from our Product Engineering Department.
We welcome you into the family of Electropedic Wheel Chair Elevator Lifts
Wheel chair Elevator Lifts deliver the most simple and direct solution for conquering the deck divide or porch.#157; Smoothly and effortlessly moving straight up and down, from patio to porch, driveway to entryway, backyard to deck, even floor to floor, a Wheel chair Elevator links your inside life with your outside life seamlessly, efficiently and up to 14 feet in height!
WHEEL CHAIR ELEVATOR LIFTS
Please contact us for the WORLD'S BEST PRICES, Quality, Guarantee, Delivery, Service amp; Selection
800-727-1954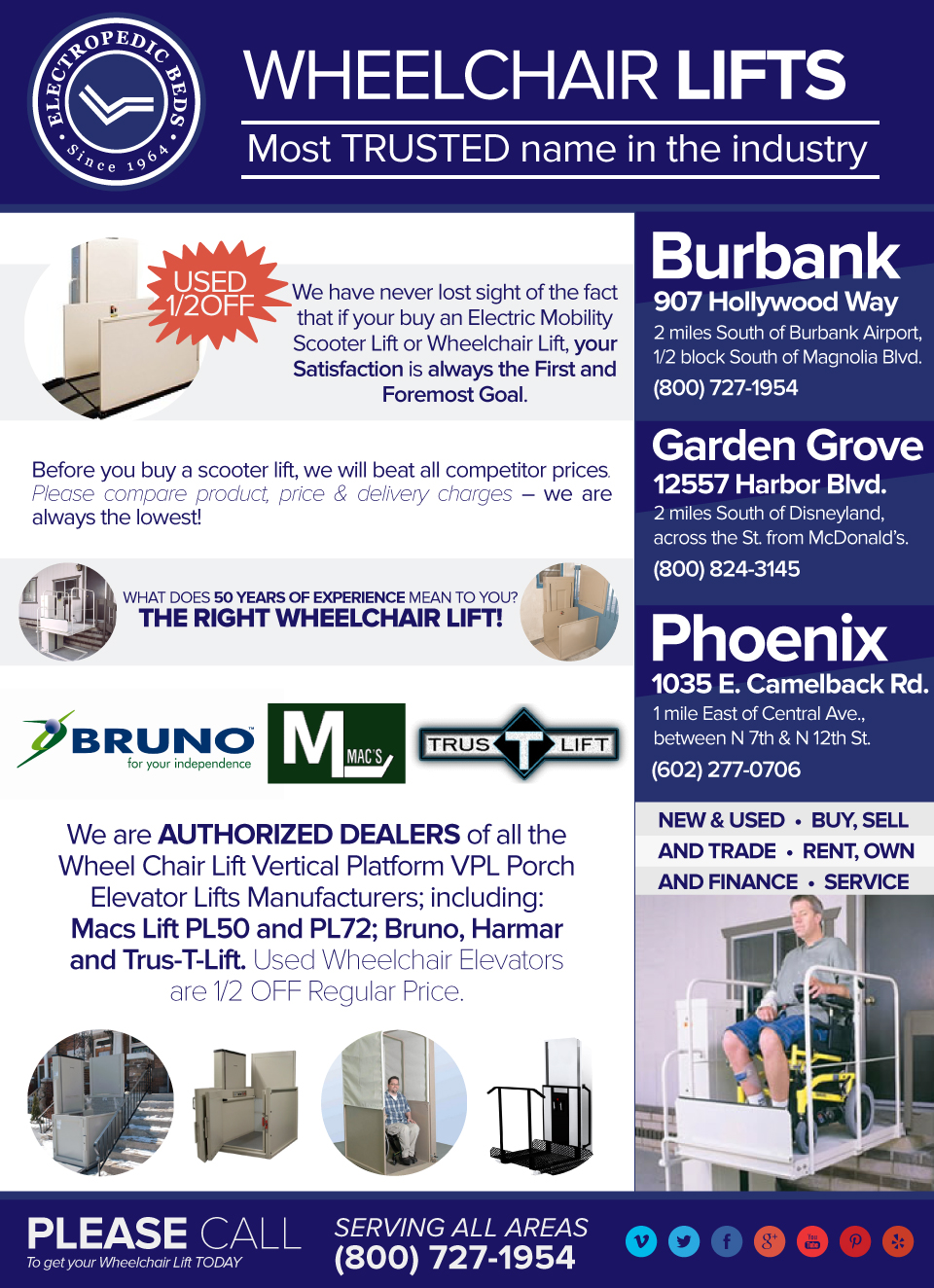 Wheel chair Elevator Specialists
Yelp Wheel chair elevator BBB A+ Rating TrusLink Wheelchair Lift Yahoo Porch Lift RentItToday Mac Yellow Pages Wheelchair Elevator Disaboom Wheel Chair Lift LinkedIn Commercial ADA FaceBook ADA Lift YouTube Wheelchair Elevator
Residential and Commerical . . . NEED A COMMERCIAL Wheel chair ELEVATOR INSTALLER? . . . CALL 800-727-1954
Standard 4 - 5 Feet . . . Up to 14 Feet
Sales, Service, Delivery amp; Installation SERVING ALL USA 800-354-5040
Los Angeles
New York
Chicago
Dallas#150;Fort Worth
Philadelphia
Houston
Miami
Washington
Atlanta
Boston
Phoenix
San Francisco#150;Oakland
Riverside#150;San Bernardino
Seattle
Minneapolis#150;St. Paul
San Diego
St. Louis
Tampa#150;St. Petersburg
Baltimore
Denver
Pittsburgh
Portland
Cincinnati
Sacramento
Cleveland
Orlando
San Antonio
Kansas City
Las Vegas
San Jose
Columbus
Charlotte
Indianapolis
Austin
Virginia Beach#150;Norfolk
Providence
Nashville
SERVING ALL AREAS 800-354-5040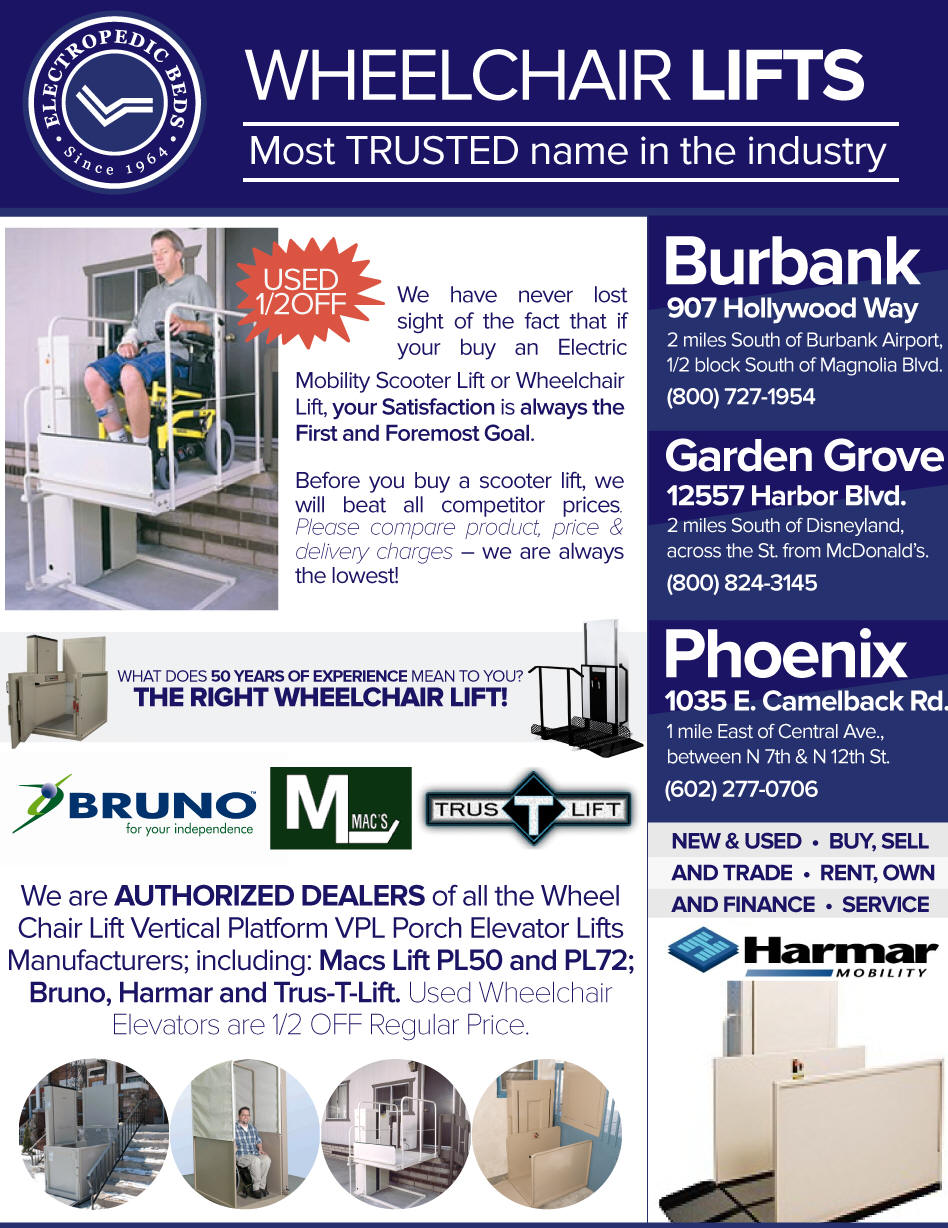 SERVING ALL AREAS:
Memphis
Louisville
Richmond
Oklahoma City
Hartford
New Orleans
Birmingham
Salt Lake City
Raleigh
Buffalo Milwaukee
Abbotsford, BC
Aberdeen, SD
Abilene, TX


USED ELECTRIC SCOOTER LIFTS 1/2 OFF: CAR, VEHICLE MOBILITY SCOOTERS AND WHEELCHAIRS ARE FOR TRUCK, TRUNK, VAN, INSIDE OUTSIDE TRAILER HITCH CLASS 2 AND 3 HITCHES BY HARMAR, BRUNO, BURR AND PRICE SILVER-STAR

USED ELECTRIC WHEELCHAIR ELEVATOR VERTICAL PLATOFORM LIFTS 1/2 OFF REGULAR PRICE. BRUNO VPL-3100, MACS PLTO AND PL72, HARMAR AND MORE! BUY, SELL, RENT AND TRADE. NEVER UNDERSOLD! ALWAYS THE LOWEST PRICE.