Your 100% Total Satisfaction Is Our Only Goal!
We understand that Disabled Wheel Chair Vertical Platform Porch Elevator Lifts by Concord Savaria may be a little too complicated to simply buy without first talking to a Specialist; Afterall, one buys a disability handicap porch lift like this only once. Finding the best handicapped platform for your manual wheelchair or electric powerchair or wheelchair is what we do. Concord Savaria Wheelchair elevator vertical platform lifts are some of the World's Best. Senior and Elderly Solutions at the lowest price is what we do best. You can shop with confidence when you shop with one of our Specialists. Your 100% Total Satisfaction is our only goal! Please call for full information; you will be glad that you did.
Member BBB - Member WHFA - Joint Commission Medically Accredited - Since 1964
SERVING ALL USA - We ship direct from 5 different Factory's to your Home
or visit our own Factory Showrooms:
Burbank/CA Factory Showroom 907 Hollywood Way(800)727-1954
Garden Grove/CA Showroom 12557 Harbor Blvd.(800)824-3145
Phoenix AZ. 1035 E. Camelback Rd (800)733-1818
San Jose, CA Dealer 209 S 14th Street (877)727-1954
Denver, CO Dealer (800)354-5040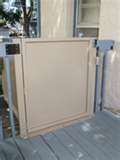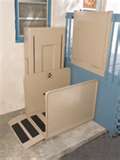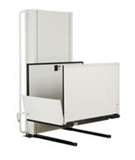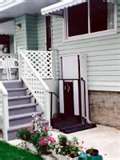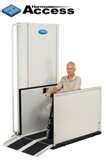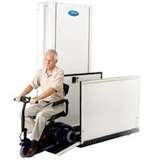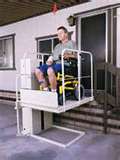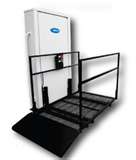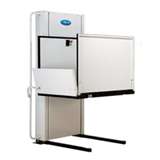 WORLD'S LOWEST PRICES (800)354-5040
SERVING ALL USA!
Now for the Best Selection of Vertical Platform Lifts and Wheelchair Elevators. A Porch Lift is easily put alongside your staircase to make bypassing your stairway as easy as pressing a button to go up and down. Designed to be the ultimate in mobility for the senior and elderly market, and ADA disabled and disability manual wheel chair, electric powerchairs and wheelchairs, the hydraulic motorized powered handicapped lifts from Handicap and Handicapped Concord Saveria, Home and Residential Bruno VPL-3100, Disabled and Disability Macs PL-52 and PL72 and up to 12 feet Commercial Outside and Exterior Trus-T-Lift, you are going to wonder how you ever waited so long to pamper yourself.
P.A.L. Vertical Platform Lifts
The P.A.L. Vertical Platform Lift can be installed indoors or outdoors and will provide many years of reliable service with it's high tech construction and electrostatically applied baked-on polyester gloss powder coat paint.



Multilift Vertical Platform Lift
The Multilift vertical wheel chair lift offers safe and reliable operation for its users. This ruggedly constructed lift has been proven for both indoor and outdoor applications.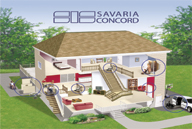 Savaria Concord Disabled Wheel Chair Porch Home Wheelchair Elevator Company
Please call for New and Used Savaria Concord Disability Wheel Chair Porch Lift Home Elevator Company
In business for over three decades and having manufactured over 5000 lifts, elevators, stairlifts and home accessibility products every year, we understand the needs of people with mobility challenges. Savaria Concord is proud to offer home and commercial accessibility equipment that responds to your everyday needs and enhances your quality of life. That's why we're Canada's industry leader and North America's 2nd largest accessibility company.
Savaria Concord Lifts designs, manufactures and distributes top-of-the-line accessibility products, including residential and commercial elevators, stair lifts, wheelchair lifts, incline and vertical platform lifts, automatic Doors and Operators and a selection of ADA compliant products. Our equipment is certified to meet or exceed all applicable elevator and lift codes in North America.
Our users' safety is paramount. Our products are built to last with robust materials and safety features that meet established safety standards in countries around the world. With 600 distributors in Canada and the U.S.A., Savaria Concord Lifts is their first choice in accessibility products and home elevators. Thousands of North Americans access, exit and move vertically in homes and commercial spaces using Savaria Concord products. Our products are also available through dealers in Africa, Asia, Australia, Europe, South America, UK and most recently the United Arab Emirates.
Savaria Concord stairlifts are equipped with user friendly features, have some of the quickest installation times in the industry and are all backed by a 36-month guarantee. Our products enhance your quality of life by opening up access to homes and business spaces. It is with pleasure that we introduce you to Savaria Concord's complete line of accessibility products. Please contact us if you have any questions or would like more information.
Since 1964, we have never lost sight of the fact that your Cost and Price are always a primary concern. We offer the best discount and cheap prices on the highest quality merchandise. Whether for New or Used, please call (800)354-5040. You'll Be Glad You Did! Contact Wheelchair Elevators